Our route:
Milngavie to Drymen-- 12 miles
The start is from the centre of Milngavie shopping precinct and proceeds through parkland, quite easy going to start with, and the route is well marked. A good first day steady walking managed to find a pub on the route around lunchtime and sat outside in pleasant weather. Found the campsite easily at Easter Drumquhassie Farm- good facilities including showers all for £4 each. Unfortunately, it was about a 2 mile walk down the road into Drymen for the nearest hostelry but well worth it..reputed to be the oldest pub in Scotland and serving excellent food.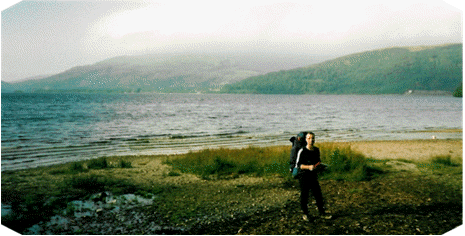 Drymen to Castel Campsite nr Rowardenan-- 12 miles
Pleasant walking through forest to start, then came to the first real rise- Conic Hill, shortly after reaching the summit, there was a fantastic view over Loch Lomond particularly as it was a clear day. Dropped down into Balmaha,and stopped for a drink in one of the pubs, then pressed on by the side of the Loch. Eventually reached the Cashel Campground located by the Loch which is great, but its pretty much isolated from any town or village and there is no local pub. We weren't really prepared for this, but luckily got there before the site cafe closed at (17:45 on Sundays) and managed to get a reasonable meal. Cost £4 each to camp including shower.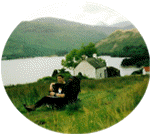 Castel Campsite to Inverarnan-- 16 miles
It rained most of the night, but it miraculously stopped as we got up, and it stayed fine until about 6pm, when it started again! The day's walk was entirely by the Eastern banks of the Loch which we thought would be easy, but it turned out to be quite tough going, there were lots of small climbs and roots to negotiate through the forest. We suffered a bit with de-hydration, draining our water bottles, and very pleased to reach the Inversnaid Hotel for a refill and an excellent pint (of orange!). The remaining 8 miles after the hotel seemed to go on for ever and really drag. Camped at Beinglas Farm which was an excellent site with a site shop and good showers, cost again £4 each. Luckily there is a pub (Drovers Inn) nearby just across the river via the small footbridge. The pub is worth a visit just for the experience..interesting!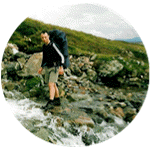 Inverarnan to Bridge of Orchy--20 miles
It rained all night, this time, it didn't stop in the morning. It was a bad start to what turned out to be a tough day. The original plan was to walk to Tyndrum, but because the weather was bad, we had been 'burning' up the miles and got there by 13:45, and decided it would be best to press on, but we weren't sure where we would be able to camp the night. We had a break at the Pine Trees Campground in Tyndrum (where we would have been staying) then carried on via Brodie's stores for some chocolate. Had a long trek on the old miliatary road in driving rain- unfortunately not appreciating the scenery properly due to having the hood up and head down! On reaching the Bridge of Orchy, we asked at the hotel if there was a campsite nearby, they said it was at Inveroran, about 5 miles away! We had already done 20, and really didn't want to do any more especially in the weather and being already soaked. Seeing the dread on our faces, the receptionist then said, "There is a room in the bunk-house next door at £8 each". We took it, and it was brilliant, the room was just for 2 people, and heated, there were showers, and we managed to get everything dried off. The hotel next door was serving good food and drink, it couldn't have been a better ending to a very hard day's walk.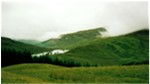 Bridge of Orchy to Kinlochleven--20 miles
Better weather, a bit drizzly, but not bad enough for waterproofs, bit of a climb to start, midges starting to be annoying. Got to Invoranan in about 1 and a half hours, feeling pleased that we had not pressed on the previous day! Excellent walking over Rannoch Moor and got to Kingshouse by 12:30, and stopped for a pint in the hotel. We were going to camp here, but as it was so early, decided to carry on over 'devils staircase'. After the climb (which wasn't so bad as people had told us) there was a long seemingly endless descent down to Kinlochleven, our destination for the night. We camped in the grounds of the MacDonald Hotel (£4 each inc. shower) which was ok, the only problem was the midges! It was the worst midge situation imaginable, they were everywhere, the tent was covered inside and out, couldn't really tolerate more than a few minutes outside, luckily, we had plenty of repellant, which didn't keep them away as such, but we managed to clear them out of the tent (until the next time the door was opened, then it all started again!)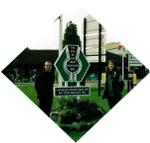 Kinlochleven to Fort William--15 miles
We were dreading leaving the tent because of the midges, so packed as much as possible away before even opening the door. We then planned to whip the tent down as quick as possible then be off, but on emerging, it wasn't so bad, there weren't many around. Anyway, we made a swift exit, the Way continued immediately uphill out of Kinlochleven, then followed some of the best walking so far through a pass between mountains, and on into woodland. Ben Nevis was visible ahead eventually meeting a Land Rover type track leading down to Glen Nevis. The weather was quite variable, but warm enough for wearing shorts. Camped at the Glen Nevis campsite, (£7.50 each + 20p for shower) which as its a tourist area was a bit more expensive, but the facilities were excellent i.e. really good showers, flat ground and a site shop. We finished the West Highland Way on the way to find our evening meal in Fort William which was about 2 miles further up the road. Had a fantastic night at MacTavishes Kitchen, which provided us with very good food, and traditional Scottish entertainment- a fitting end to a great walk.


Ben Nevis!
It was irresistable really, it was there just in front of us, and we didn't have to be off until about midday, so we went for it! Rose quite early, and we had it to ourselves, there was no-one else in sight! We didn't hang about, it took us just under 2 hours to get to the top- walking quite quickly, had a wander round, then ran most of the way down in about an hour. Really enjoyed it, and hardly saw another soul until we got almost back down. Had a shower, packed up and caught the bus back to Glasgow.
A fantastic week!