On the podium after the Alpe d'Huez TT - the usual suspects + Jane
Since everyone managed all the climbs on last years Alps trip we decided this year we would go for some bigger ones! We spent the first week at Guillestre near Briancon, and the second week at Bourg d'Oisans at the foot of Alpe d'Huez.
Hiding from the sun on the campsite! We only had one afternoon of rain in the whole 2 weeks!
Norton Wheelers Col Climbing Extravaganza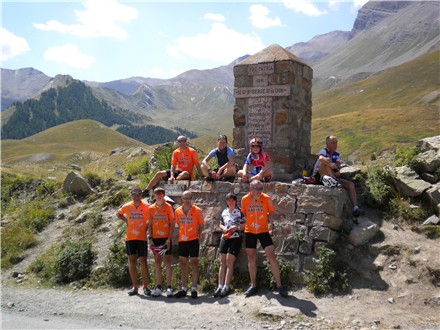 Col de Vars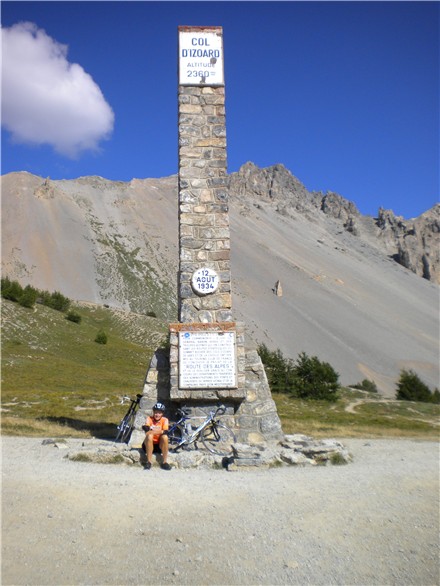 Col d'Izoard
Cold'Agnel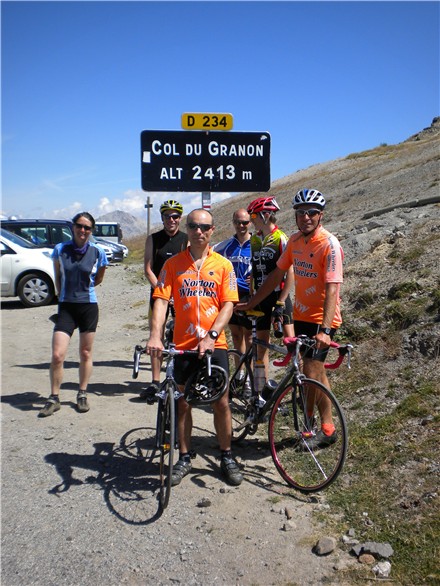 Col du Granon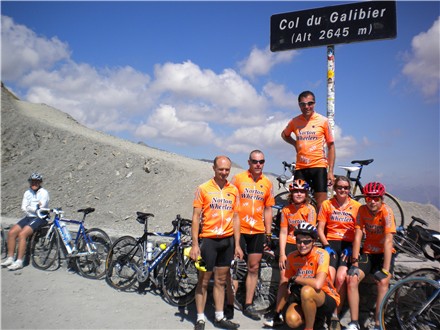 Col du Galibier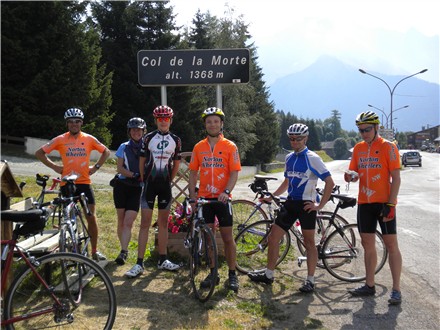 Col de la Morte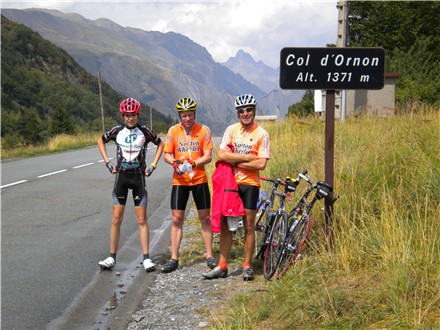 Col d'Ornon
Col de la Sarenne
Col du Glandon
Well that took up a couple of hours in the morning so what did we get up to for the rest of the day?
On the "beach" at Embrun. We did cycle there!
Bathing beauties - shame about the cycling suntans!
Headtorch required for the tunnels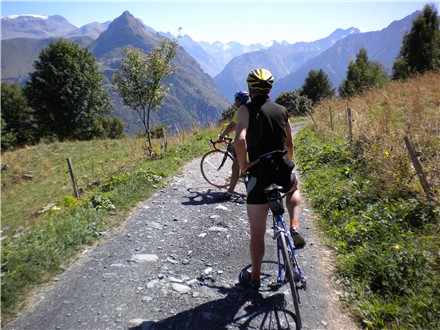 Training for the 3 peaks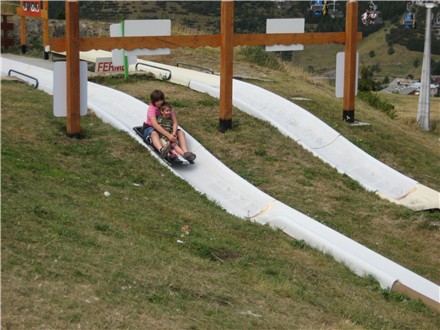 Miles and Hannah on the summer luge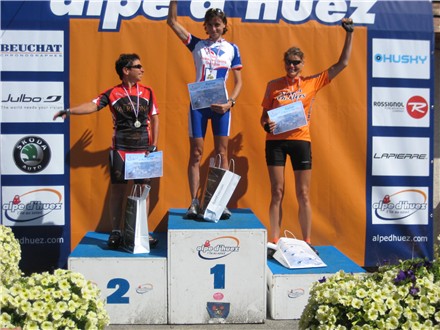 Russ in dark Peak colours running the Alpe d'Huez TT
Since Jane had ridden every hill with us on Dave's winter bike we decided to let her get her own back on a via ferrata. This involves going up a very steep rock face wearing a climbing harness and clipping yourself into a metal wire in case you fall. Nobody fell so we never found out if it actually works!
We also had a go at Hydrospeed or white water swimming which involved getting in a freezing cold river wearing a wetsuit and flippers and floating down on a sort of homemade giant float. Sadly i haven't got any pictures
Back to the cycling!
Since we were in bourg d'Oisans the subject of a trip round the Marmotte was obviously going to arise. Despite numerous attempts to put him off Tom was adamant he wanted to do it. I made my excuses along with almost everyone else and Darrell and Kev did the honourable thing and went with him. I was slightly dissapointed when Darrell and Tom arrived back about 10 hours later looking as if they had just done a Saturday morning ride but Kev obligingly spent about half an hour chuntering about how knackered he was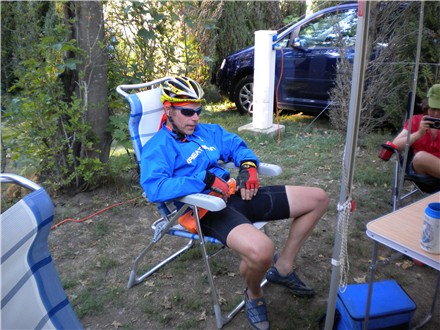 180km and 5000m of ascent. Kev survives the Marmotte
The day after the Marmotte we headed into unknown territory on the other side of the valley
Alpe d'Huez TT
The other thing we were all keen to have a go at was the TT. In True French style they made it into a real occassion, complete with blow up start gate, music, commentator, lead car, timming chips, certificates and a podium at the finish.
Around 70 riders took part from all round the world it seemed but we had the biggest team! The Norton pecking order had by now been firmly established and Darrell was our first finisher in 13th place with Tom hot on his heels in 16th. Kev and Dave also both got in under the hour
.
Despite being about 4 minutes outside the hour i managed to get on the podium
.
I don't think there was anyone there who hadn't spotted our team colours by the end of the event!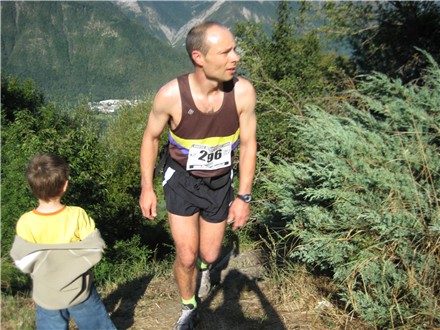 Women's podium
The"maillot orange" out in force on the TT, i think the guy in the Euskadi top wanted to join in!
The only questions now are where to go next year and will Darrell be able to hang on to the maillot Jaune?!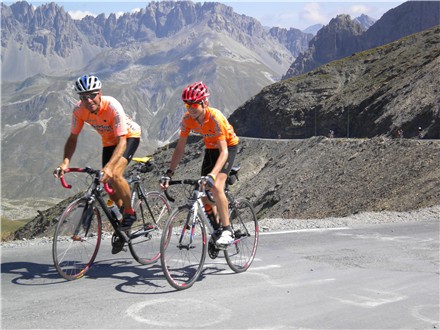 Master and apprentice - despite constant pressure Darrell never cracked but i think his heart rate monitor went into previously unvisited zones!